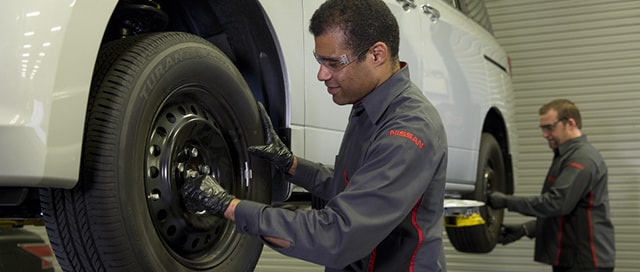 Drive with Confidence
Properly maintained tires make for a smoother ride, provide better traction for better steering and overall control of the vehicle, and can improve your gas mileage. Visit Nalley Nissan of Cumming, GA to experience the Express Service tire rotation difference. Here are just a few reasons to rotate your tires.

Avoid uneven tread wear
Increased lifespan of your tires
Improved braking
Improved handling
Drive into Nalley Nissan of Cumming to experience the difference. An Express Tire Rotation can be completed along with an Express Oil Change and a free multi-point inspection. All of this from an expert Nissan service technician you can trust. Come in today when it's convenient for you, and we'll get you back on the road fast with reliable service that you can trust. If you prefer to, you can also schedule an appointment online.
Why Rotate Your Tires?
As you drive, the weight of your vehicle shifts, resulting in distinct erosion patterns on your tires. By rotating your tires to different positions on your vehicle, you can avoid uneven tread wear. Even tread wearing helps your tires last longer which maximizes your investment. The benefits don't stop there, though. Tire rotation also enables your vehicle to brake more evenly and balances the handling of your vehicle.
Service Hours
Monday

7:00 AM - 6:00 PM

Tuesday

7:00 AM - 6:00 PM

Wednesday

7:00 AM - 6:00 PM

Thursday

7:00 AM - 6:00 PM

Friday

7:00 AM - 6:00 PM

Saturday

7:00 AM - 4:00 PM

Sunday

Closed
See All Department Hours
Dealership Hours
Monday

9:00 AM - 7:00 PM

Tuesday

9:00 AM - 7:00 PM

Wednesday

9:00 AM - 7:00 PM

Thursday

9:00 AM - 7:00 PM

Friday

9:00 AM - 7:00 PM

Saturday

9:00 AM - 6:00 PM

Sunday

12:00 PM - 5:00 PM (Last Sunday)
Parts Dept. Hours
Monday

7:00 AM - 6:00 PM

Tuesday

7:00 AM - 6:00 PM

Wednesday

7:00 AM - 6:00 PM

Thursday

7:00 AM - 6:00 PM

Friday

7:00 AM - 6:00 PM

Saturday

7:00 AM - 4:00 PM

Sunday

Closed
Service Dept. Hours
Monday

7:00 AM - 6:00 PM

Tuesday

7:00 AM - 6:00 PM

Wednesday

7:00 AM - 6:00 PM

Thursday

7:00 AM - 6:00 PM

Friday

7:00 AM - 6:00 PM

Saturday

7:00 AM - 4:00 PM

Sunday

Closed