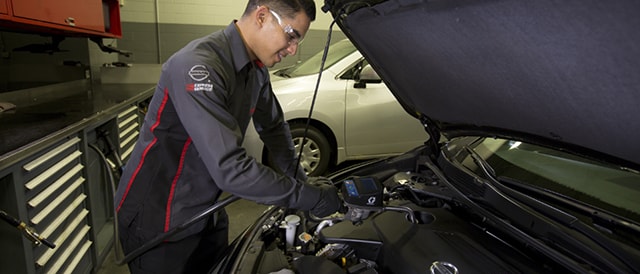 Nissan Oil Change by an Expert Technician
Need an oil change but can't find the time? Nalley Nissan of Cumming offers an Express Oil & Filter Change that's fast and convenient. We get you in and out quickly using Nissan's famous expert service technicians & always strive to provide the great value Nissan is so well known for. 

Our technicians will also perform a complementary vehicle inspection, checking general safety and performance areas of your vehicle around the wheel and under the hood.

Don't wait too long before your next oil change. Extending the Nissan factory recommended oil change interval schedule could negatively impact the performance of your vehicle. Please check your owner's manual for your Nissan vehicles recommended oil change interval schedule.

Just drop in for an oil change service at your convenience. However, if you wish to make an appointment, give us a call today to set up a time that works best for your schedule, or click here to schedule an appointment online.
Why Do I Need an Oil Change?
Oil plays a crucial role in maintaining the safety and reliability of your vehicle - it's essentially the frontline of defense for your engine. A routine schedule of oil and filter changes will ensure the maximum performance of your vehicle while avoiding potential costly repairs in the future.

Regular oil and filter changes are an economical way to protect and extend the life of your vehicle. Oil reduces wear and tear by providing a lubricating barrier between each of the moving engine parts. Over time constant friction, heat and contaminant exposure all cause oil to degrade. The oil filter can extend the life of your oil and your car by capturing contaminants and reducing engine-damaging oil sludge buildup. See your owners manual for recommended oil change intervals.

We only use genuine Nissan oil filters that are designed specifically for your vehicle. Nissan oil filters are engineered with an anti-drainback valve that keeps the oil in the filter when your engine isn't running, which prevents harmful engine wear when you start your vehicle.
Service Hours
Monday

7:00 AM - 6:00 PM

Tuesday

7:00 AM - 6:00 PM

Wednesday

7:00 AM - 6:00 PM

Thursday

7:00 AM - 6:00 PM

Friday

7:00 AM - 6:00 PM

Saturday

7:00 AM - 4:00 PM

Sunday

Closed
See All Department Hours
Dealership Hours
Monday

9:00 AM - 7:00 PM

Tuesday

9:00 AM - 7:00 PM

Wednesday

9:00 AM - 7:00 PM

Thursday

9:00 AM - 7:00 PM

Friday

9:00 AM - 7:00 PM

Saturday

9:00 AM - 6:00 PM

Sunday

12:00 PM - 5:00 PM (Last Sunday)
Parts Dept. Hours
Monday

7:00 AM - 6:00 PM

Tuesday

7:00 AM - 6:00 PM

Wednesday

7:00 AM - 6:00 PM

Thursday

7:00 AM - 6:00 PM

Friday

7:00 AM - 6:00 PM

Saturday

7:00 AM - 4:00 PM

Sunday

Closed
Service Dept. Hours
Monday

7:00 AM - 6:00 PM

Tuesday

7:00 AM - 6:00 PM

Wednesday

7:00 AM - 6:00 PM

Thursday

7:00 AM - 6:00 PM

Friday

7:00 AM - 6:00 PM

Saturday

7:00 AM - 4:00 PM

Sunday

Closed