We all love our dogs, but sometimes the world just isn't built for them. It's always great to take our dogs with us on long car rides, but the trip can be uncomfortable for both you and your furry friend because cars are not really conducive for an animal. The back is either too small for you dog to fit comfortably, or the mess created from the dog is too much of a hassle to clean up. But what if there was a car designed specifically with the needs of your pet in mind.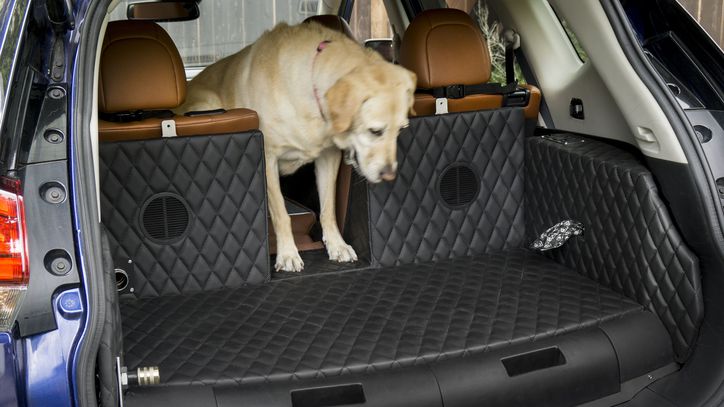 Meet the 2017 Nissan Rogue Dogue, the newest car debuted from Nissan at the 2017 New York Auto Show. The Rogue Dogue is a concept car that is based on the ideal of making your dog's life as easy as possible. From top to bottom, the newly outfitted Rogue is filled with features that make it a doggy paradise on wheels.
The most prominent feature is the retractable ramp in the back that lets your dog easily climb into the trunk. This means the days of begging your dog to jump into the trunk or straining to pick up your dog and place it in the backseat are over. Just as convenient is the water hose connected to a built in 10-gallon tank in the trunk that makes it so much easier to clean up after your dog.
Inside the trunk of the Rogue Dogue you will find a trunk with extra space and an entrenched barrier to keep your dog safe and free from sliding around all over the place. Food and water containers are built into the interior so your dog will not have to go a whole road trip hungry and thirsty. You will also love the removable hammock built in the back to clean up all the excess doggy hair.
If you are interested in more of what Nissan displayed at the New York Auto Show, head over to our Facebook page and stay tuned to our latest updates.